UPDATE: The interest meeting will now be at *8PM*, same day and place! See the event page on Facebook for more details and up-to-date information.
Practices for returning team members will start Thursday 9/5! As usual, we'll meet outside Canaday at 4:15 (and Brecon people can meet at Brecon around 4:20). Practices are Tuesdays and Thursdays from 4:30 to 7, with the usual team dinner at Haffner afterwards.
For anyone interested in joining fencing, we'll be having an interest meeting on Monday 9/9 at 7pm in the Denbigh TV room. Everyone should also come see us at Fall Frolic on Friday 9/13! Practices for new members will start on Tuesday 9/17.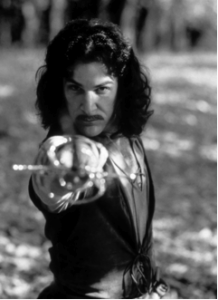 Inigo Montoya wants YOU!
Questions?: emaroni@brynmawr.edu
-Emily Maroni '15